Faculty
Parents and Alumni
Austin Community Partners
Faculty:
Part of what makes SHIFT so innovative is the collaboration among the academic realm and student life. Faculty play a key role in SHIFTing the culture and establishing change. Below are some ways that faculty are SHIFTing it up in the classroom!
Signature Course Professors: A handful of SC faculty have joined in by integrating SHIFT related discussions into their existing course content and by enhancing protective factors of the classroom. These courses cover a diverse range of topics, but share the unifying focus of caring for the success of their students.
Are you a faculty member who wants to hear more about how you might get involved? Contact Dr. Lori Holleran Steiker to learn more.
Parents and Alumni
Remembering those glory days of campus life can be almost as fun as living them. Wondering how SHIFT might shift your experience?
Guess what: YOU play a major role in this endeavor!
Would you be surprised to hear that you can be a powerful influence in your teenagers choices to use, or not use, substances? A recent research report from the Center on Addiction tells us that "More than half (56%) of teens...said that the reason some kids don't use alcohol or other drugs is because of parents, either because they know their parents would disapprove or they would get in trouble with their parents."
But your students don't stop listening after high school. College remains an important time to talk with students about their forming relationship with substances.
Parents of teenagers can underestimate the amount of substance use: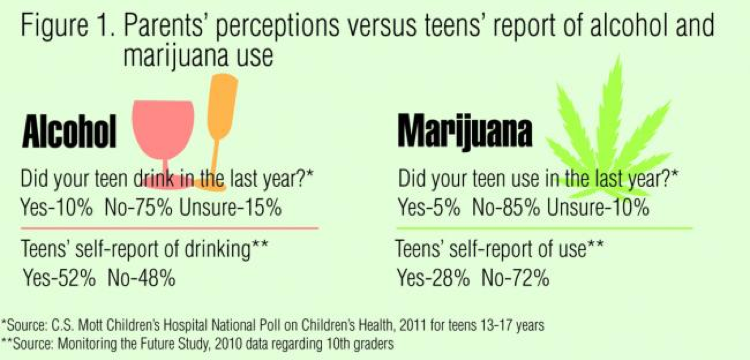 Austin Community Partners
Wondering how you might connect with SHIFT?
Our campus extends well beyond the 40 acres. Our students interface with the great city of Austin in a variety of ways. If you have a business or organization that connects with UT and would like to be involved, we'd love to have you! You play a huge role in SHIFT, whether it's offering student specials on fun social gatherings with health and safety in mind, or working with the SHIFT team to find creative ways to contribute to a healthier community by curbing substance misuse, you are an essential part of this equation and key to the success of SHIFT! Contact Kate Lower, SHIFT Director, to learn more. Email kate.lower@austin.utexas.edu, or call (512) 475-8437.
@utshift

Wondering how you might connect with SHIFT?
Well, howdy, partner! Email Kate Lower at shift@austin.utexas.edu,
or call (512)475-8437 to talk more about how you and your business might get involved.

Are you a student who is interested in joining the SHIFT Student Advisory Board? Email shift@austin.utexas.edu to learn more.